1.LCD touch screen.
2. With historical data inquiry function.
3. With USB interface to export the data.
4. Large capacity ice condenser trap and without coil inside.

5. With cascade refrigeration technology.

6. Pre-freezing shelf can be used as guide barrel to speed up the drying rate.

7. Ice condenser trap and operation panel are made by stainless steel.

8. Drying chamber is transparent which is visual and safe.

9. Shelves are stainless steel, which can be adjustable per the requirements.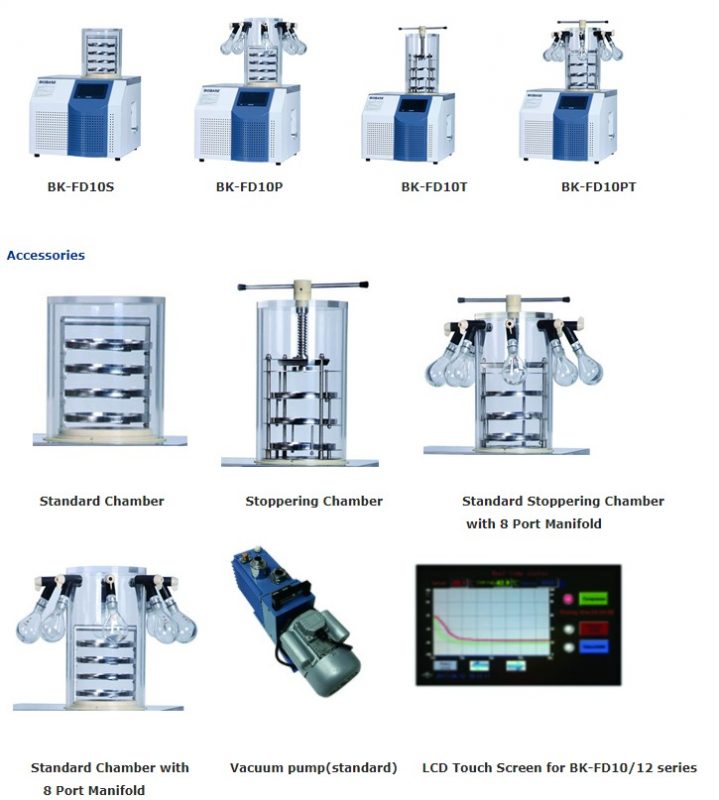 Model

BK-FD10S

BK-FD10P

BK-FD10T

BK-FD10PT

Type

Standard chamber

Standard chamber with 8 port manifold

Stoppering chamber

Stoppering
chamber with

8 port manifold

Freeze Drying Area

0.12 m2

0.09 m2

Tray

4 pcs

3 pcs

Height Between Trays

50mm

68mm

Cold Trap Temperature

≤-60℃

Cold Trap Capacity

9.5L

Cold Trap Size (Diameter*H)

Φ215*260mm

Vacuum Degree

<10 Pa

Water Capture Capacity

3kg/24h

Tray Size (D*H)

Φ200*20mm

Φ180*20mm

Freeze Drying Time

24h

Loading Capacity/Shelf (Liquid)

0.3L

Total Loading Capacity (Liquid)

1.2L

0.9L

Drying Chamber Size (Diameter*H)

Φ260*310mm

Φ260*450mm

Total Qty. Of Vial Φ22

260

195

Total Qty. Of Vial Φ16

480

360

Total Qty. Of Vial Φ12

920

690

Refrigerant

R600a+R290+R23

Cooling System

Air cooling

Power Supply

220V/50Hz,60Hz (single phase)

110V/60Hz (single phase)

Power Consumption

1.3KW

Power Supply

AC220V, 50/60Hz (single phase); 110V, 60Hz (single phase)

Standard Accessory

Vacuum pump 2L/S, 8m3/h (for all models)

Conical-mouth flask 500ml*8 pcs (only for model BK-FD10P/PT)

Optional Function & Accessory

Conical-mouth flask and wide-mouth flask(for BK-FD10P/PT)

Import vacuum pump

External Size (W*D*H)

640*610*550/810mm

640*610*550/950mm

640*610*550/990mm

Package Size(W*D*H)mm/

Gross Weight

Main Body

720*705*730(85kg)

Drying Chamber

/Vacuum Pump

705*590*530

(50kg)

705*590*530

(55kg)

705*590*530

(60kg)

720*705*730

(65kg)