Esco Medical MIRI® AVT Anti-Vibration Table
The field stability during high-magnification microscopy is impacted by ambient low frequencies. In order to protect the microscope from vibrations during In Vitro Fertilization (IVF) and Intracytoplasmic Sperm Injection (ICSI) procedures, the Anti-Vibration Table (MIRI® AVT) is equipped with a passive dampening mechanism. The MIRI® AVT is designed to be user-friendly and almost maintenance-free. The table has a strong, high-quality stainless steel structure that is simple to clean and maintain.
Esco Medical is a manufacturer of MIRI® AVTs. The Anti-Vibration Table (MIRI® AVT) is commonly used for Animal IVF & Sample Handling. In these procedures, the Anti-Vibration Table (MIRI® AVT) is utilized to eliminate undesirable vibrations that limit the high-magnification microscope. When performing micromanipulation processes, the AVT isolates microscopes from vibration via a passive dampening system.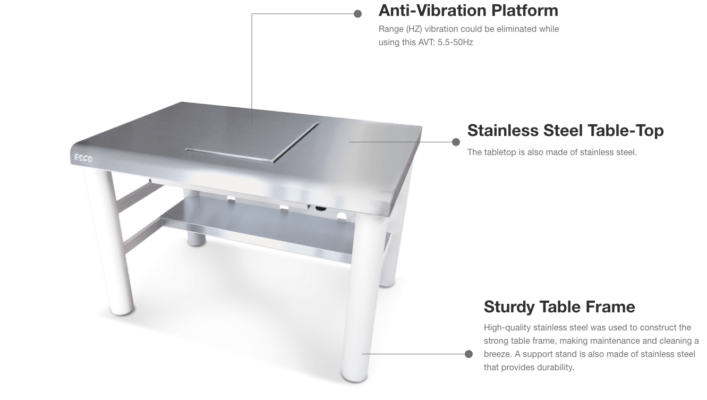 General Specifications
| | |
| --- | --- |
| Overall dimensions (W x D x H) | 1200 × 800 × 785 mm |
| Material | Powder painted mild steel/Stainless steel |
| Float Size | 540 × 340 |
| Recommended load weight | 26-32 kg |
| Damping coefficient (6 Hz) | ~ 0.1 |
| Amplitude (6 Hz) | < 1 µm |
The spectrum of the vertical vibration velocity with the additional mass of 47 kg. The resonance frequency is 5-5.29 Hz.
When employing highly sensitive laboratory balances, microscopes, and other high-precision equipment, an anti-vibration table (MIRI® AVT) is a specialized work surface that can be utilized to considerably reduce vibrations and disruptions. Anti-vibration tables are often employed in laboratory settings while performing precise weighing tests, testing, and scientific analysis. They are made of shock-resistant materials including granite, steel, and rubber. Simple yet effective, anti-vibration tables (MIRI® AVT) function by absorbing any vibrations in a lab using a shock-absorbing substance. The shock-absorbent material stops motion from traveling from your weighing surface to the tabletop or ground upon which the table is supported.
Anti-Vibration Tables can be utilized in medical research, pharmaceutical production laboratories, university science labs, and food testing facilities. The applications of Anti-Vibration Tables in various industries gives a significant importance to its manufacturing.
MIRI® AVT
Item Code
Model Code
Description
1320484
AVT-2
Anti-Vibration Table MIRI® AVT