Sentinel™ Microprocessor controller supervises all functions
Meets the requirements of the European Standard EN 12469 for microbiological safety cabinets
Provides you with the highest level of operator safety to protect you and your personnel from the cytotoxic and other hazardous compounds
Motorized sash helps simplify transfer of materials into the work zone
Highest level of cleanliness within the work zone for patient safety and product cleanliness
Esco Isocide™ antimicrobial coating on all painted surfaces minimizes contamination
Dual long-life ULPA filters for supply and exhaust airflow
Additional secondary HEPA exhaust filter

Filters can be changed without exposing the ambient environment and service personnel to potential hazards

Spacious knee room maximizes operator comfort, 245mm (9.6″) inward
Angled front improves reach into the work zone and prevents glare off the sliding sash
Available in 1.2 and 1.8m models (4' and 6')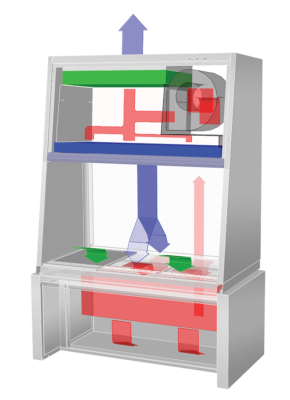 Air enters the cabinet through perforations located in front of the work zone before mixing with used downflow air in a common chamber below the work zone (this air does not mix with the filtered downflow air in the cabinet's main chamber). This mixed air then passes through the HEPA filter located beneath the work zone.
The HEPA filtered air then passes through the internal ducting, in the back wall of the cabinet, to a common air plenum where 35% is exhausted through the ULPA exhaust filter and 65% is forced evenly through the ULPA supply filter. This sterilized air serves as the supply downflow, flushing all contaminants from the cabinet's work zone.
The supply laminar air in the work zone splits and enters the perforations, located at the front and rear-side of the chamber, to reach the common air plenum beneath the work zone; wherein the cycle is repeated.
Guide to Models

CYT – __ A __

Cabinet

Code

Nominal Width

Code

Electrical Code

Code

Cytoculture® Cytotoxic Safety Cabinet

CYT

4 ft (1.2 m)

4

220-240 V, AC, 50 Hz, 1Ø

1

6 ft (1.8 m)

6

110-120 V, AC, 50 Hz, 1Ø

2

220-240 V, AC, 60 Hz, 1Ø

3
Anti-Blowback Valve
Carbon Filter Option – alternative option to V-shaped HEPA filter
Thimble Exhaust Collar – 10 inches in diameter
UV Lamp
Electrical outlet
Service fixtures
CERTIFICATIONS